Description
The main building contains a kitchen and dining area and the main part of the collection and administration facilities – a total of more than 400 sqm in four different planes.
Assembly Room/Chapel
Furnished for 90 people with the possibility of completing seats. Fold the back wall in the hall can be opened up to the dining room, which after refurnishing gives the possibility of much more spectators. Distributed microphones, including wireless, to the central audio system with speakers in the different parts of the installation. Piano, organ and AV aids are available. Call option from kitchen to cabins. Ceiling hung projector with separate audio connection to the speakers of the collection hall/dining room.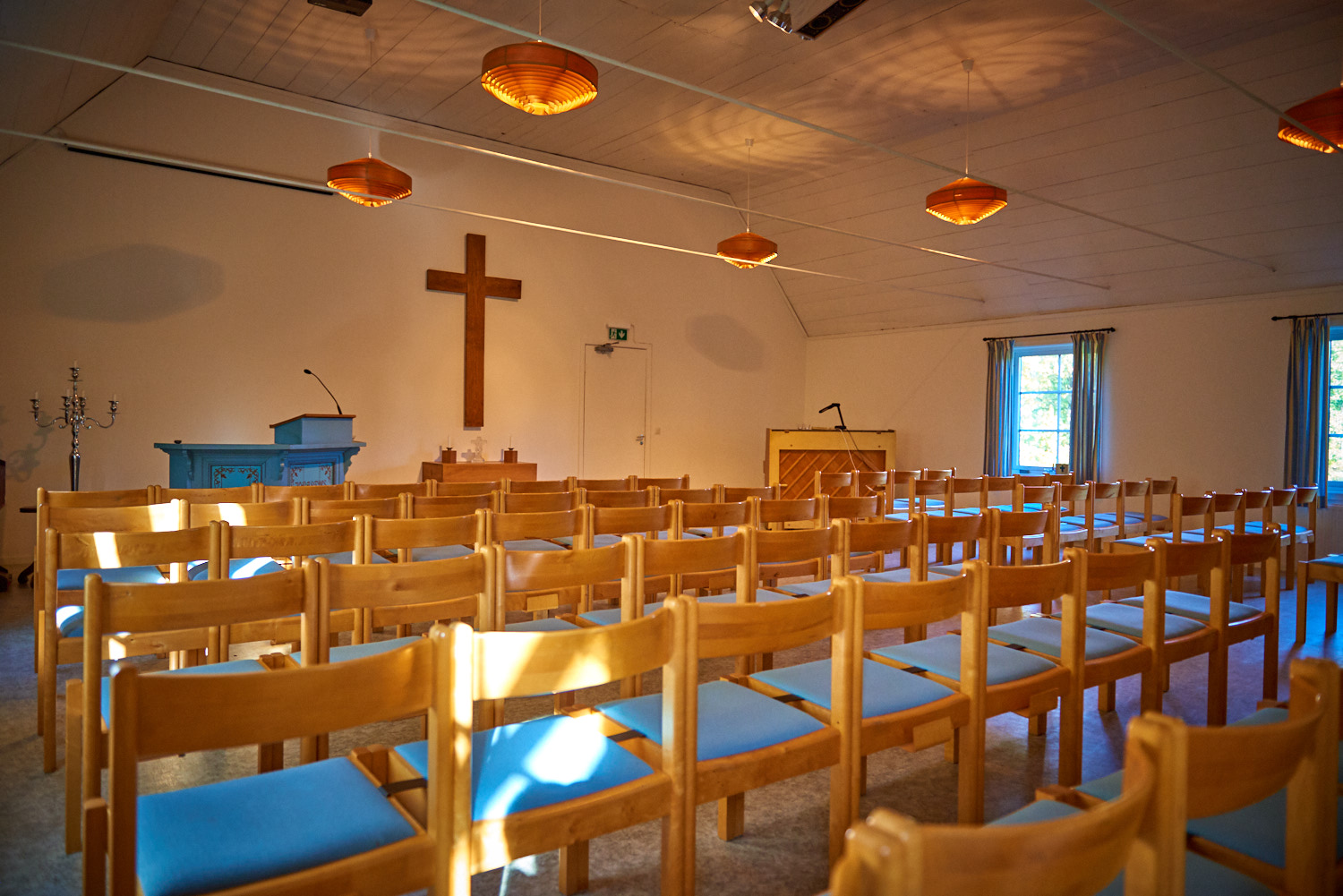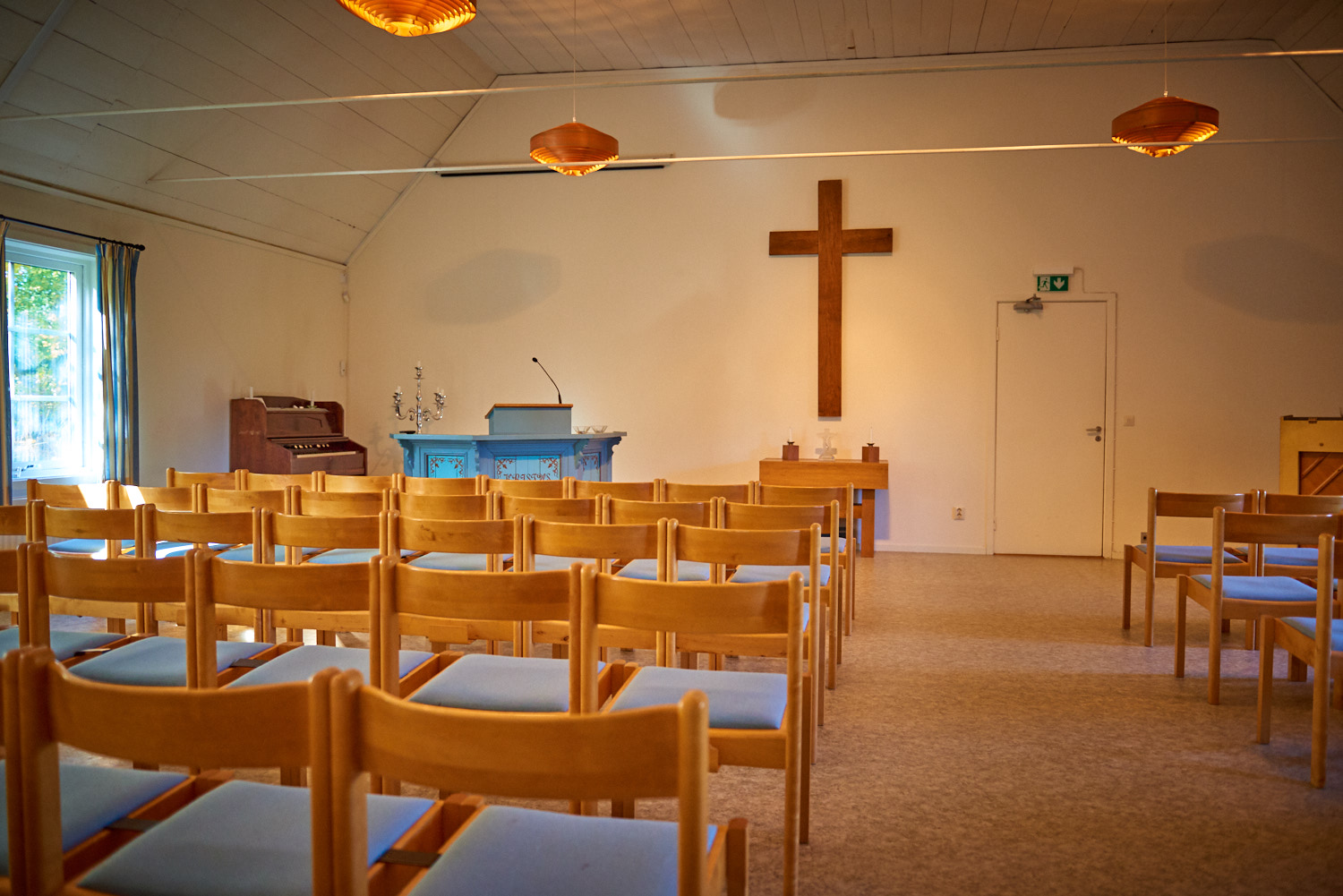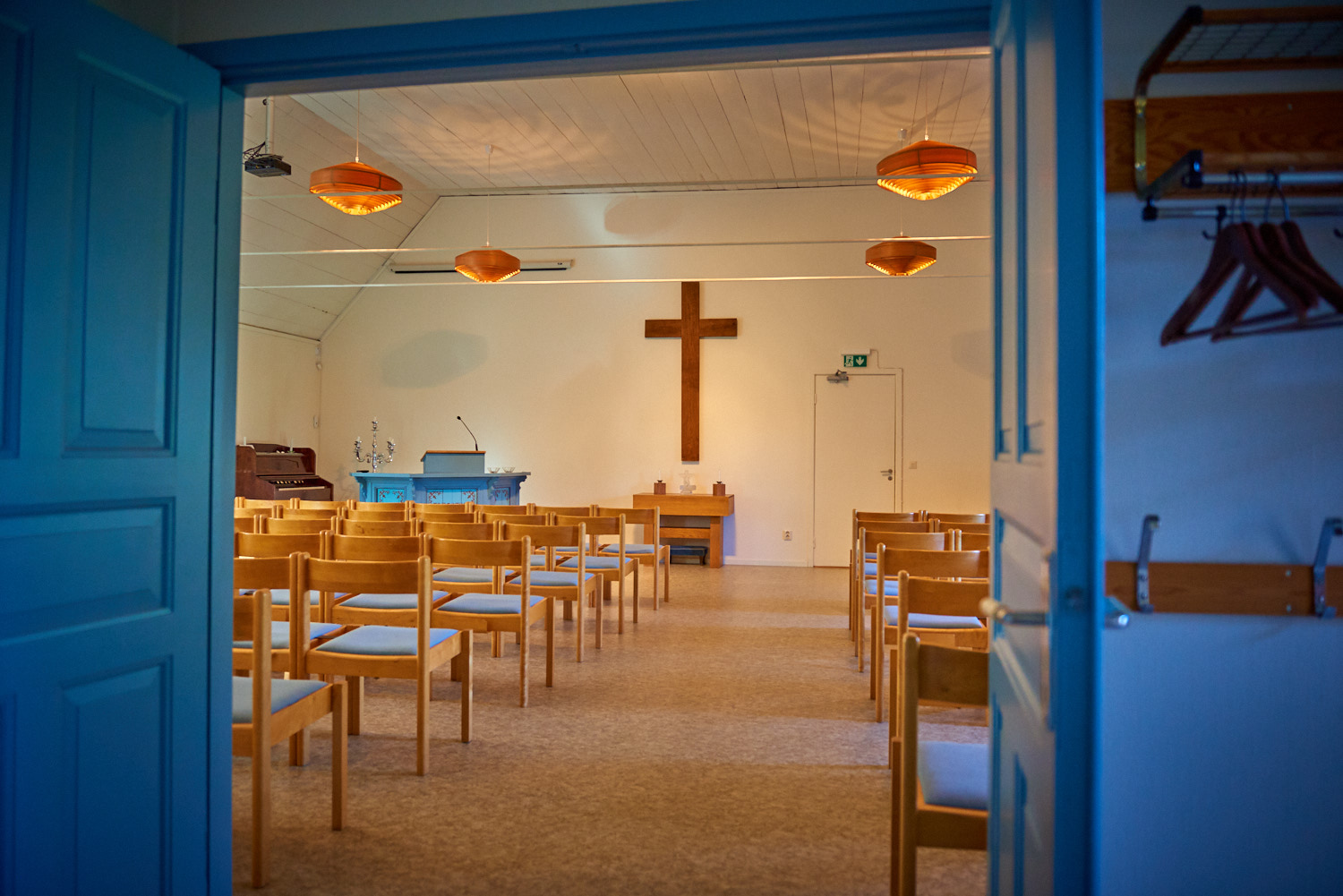 Babysitting Room
With a window to the hall and speakers, collections can be followed from special rooms on the 2nd floor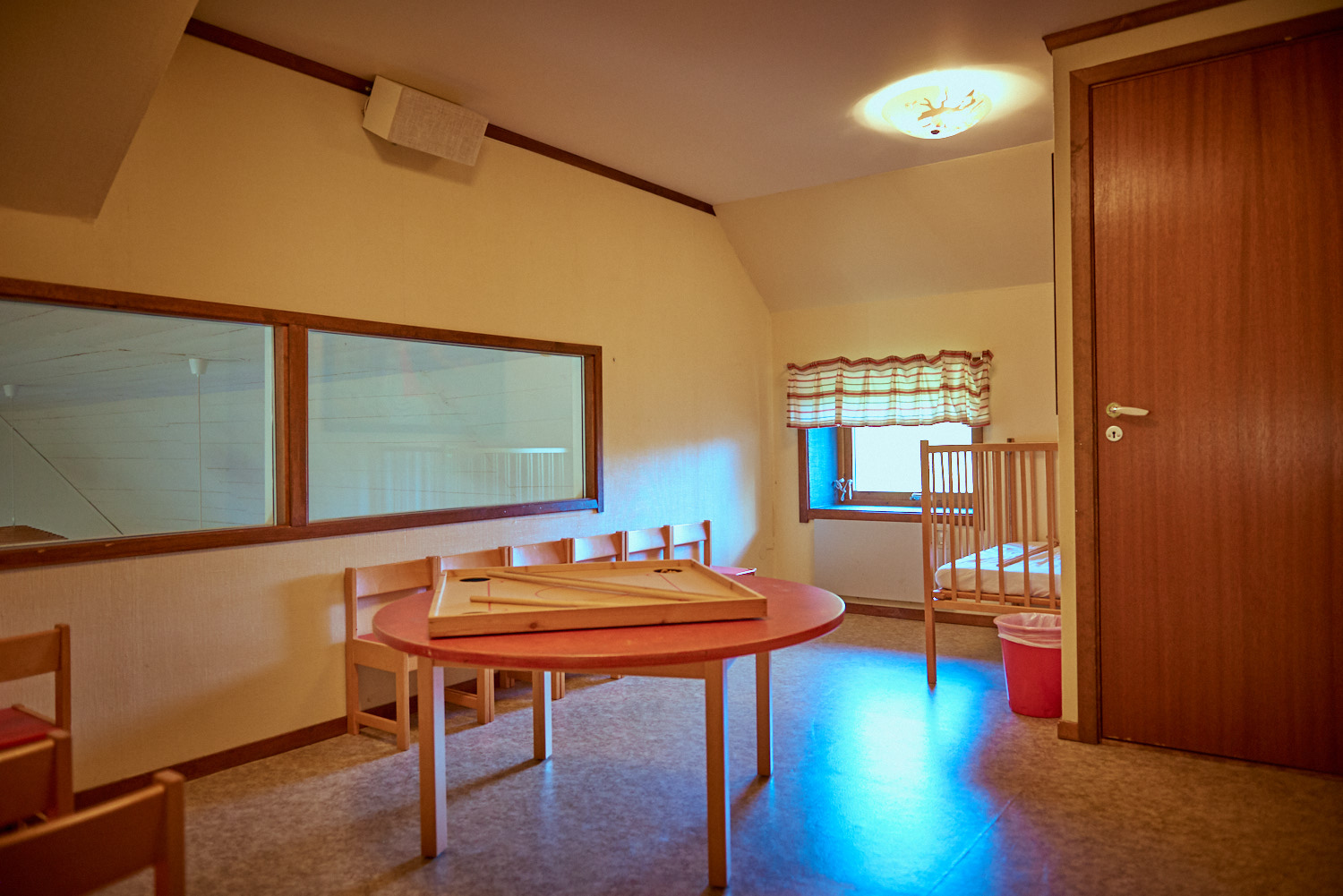 Devotional Room
For small groups, conversations or individual devotions, there is a room on level 1 at the western entrance.
Dining room
The dining room is attached to the kitchen with a larger serving hatch and is furnished with pleasant bright birch furniture typically for 60 people. It is possible to increase the seats to about 80 people within the premises. Fireplace allows pleasant braskvällar. For parties and larger canteens, the dining room can be set for about 120 people, when the folding wall can open up to the Assembly hall which is then also used.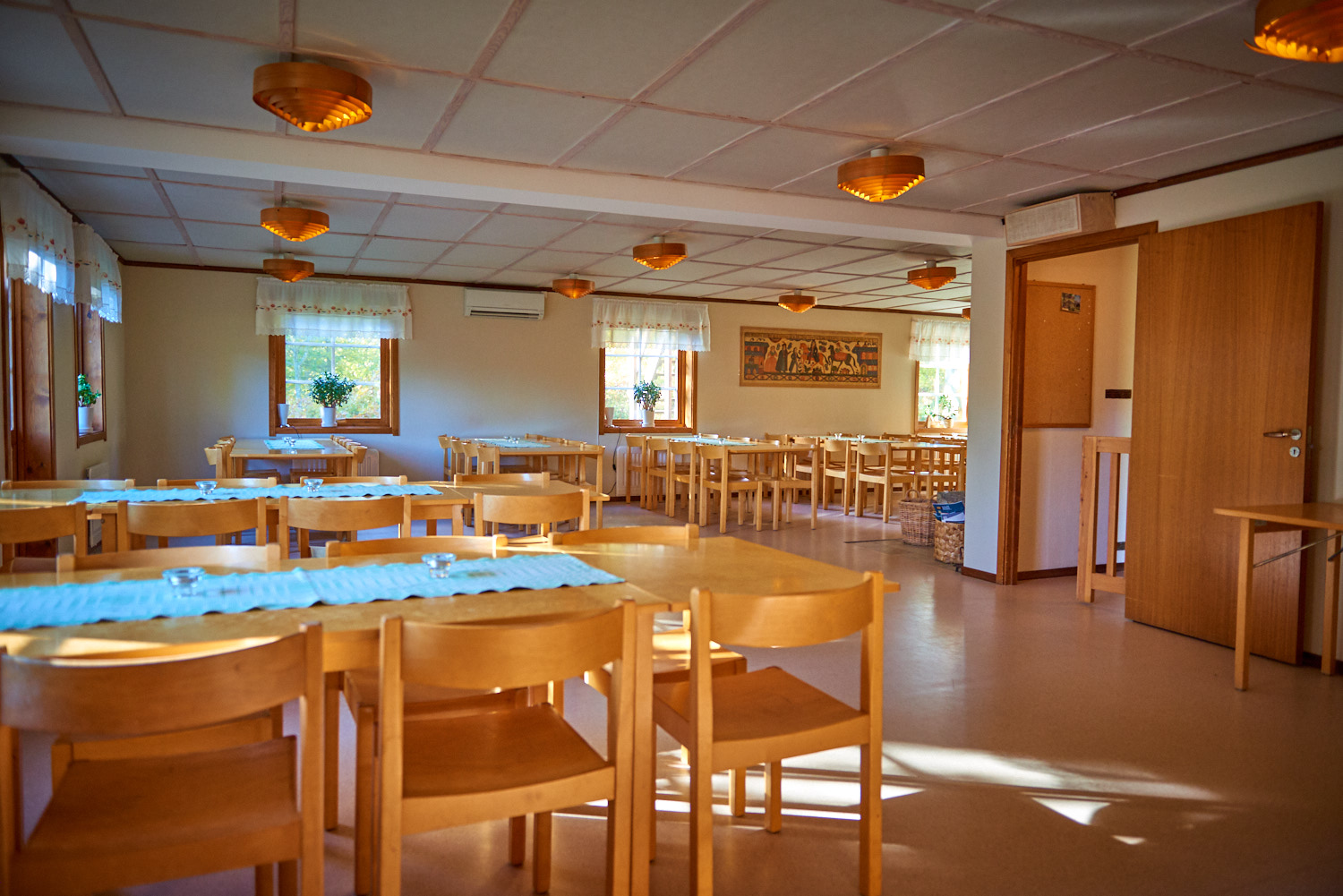 Kitchen
Well equipped kitchen including:
Electric cooker in a catering version
Hot air and steam oven for 5 tins
Roasting table, convection oven, microwave
Kokeri with Hotpot
Kokgryta, 15 liter, floor mounted with fixed water connection and drainage for floor sewers
2 Refrigerator 300 L
Freezers 300 Liters
Coffee machine for 4 jugs
Mixer – Food processor
Dishwasher with Avspolningsline in Restaurangutförande
Porcelain, glass, cutlery for 100 people
Wash-cart with waste sorting
Storage for Specerivaror
Suterrängvåning
Suterrängvåning with an entrance also directly on the outside has 3 toilets, one of which is wheelchair accessible. The sauna is equipped with two dressing rooms. Washing machine 5 kg. Guests also can use cold storage and two additional freezer boxes.
Staff toilet
Adjacent to the kitchen there is a separate toilet to be provided by the kitchen staff.
Rooms
Group rooms are available at different locations in the building:
Group rooms with soft seating and seating for about 40 people are available in flat 2½.
Group rooms with seating for 15 people are equipped with TV, video, and music system on the 3rd floor.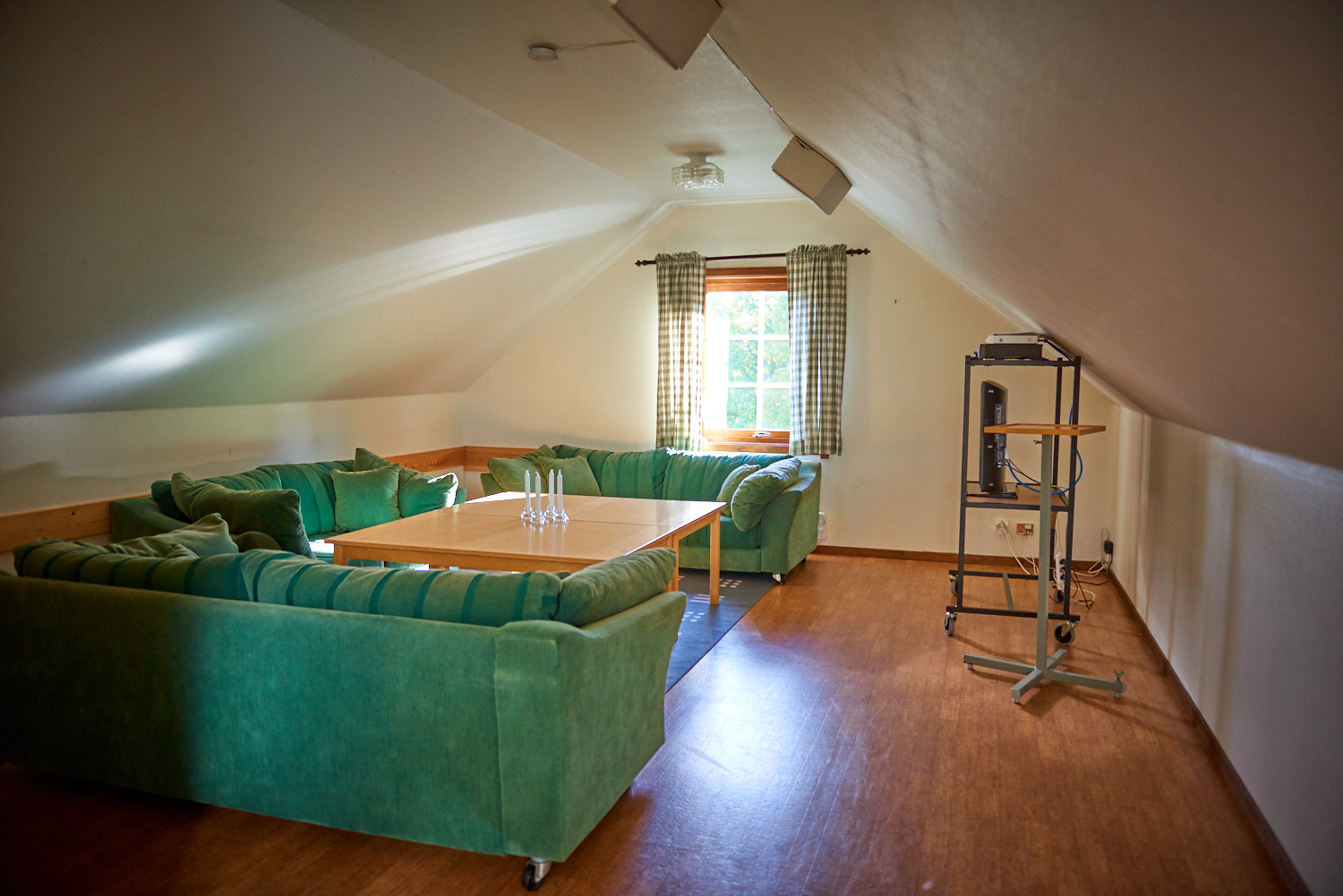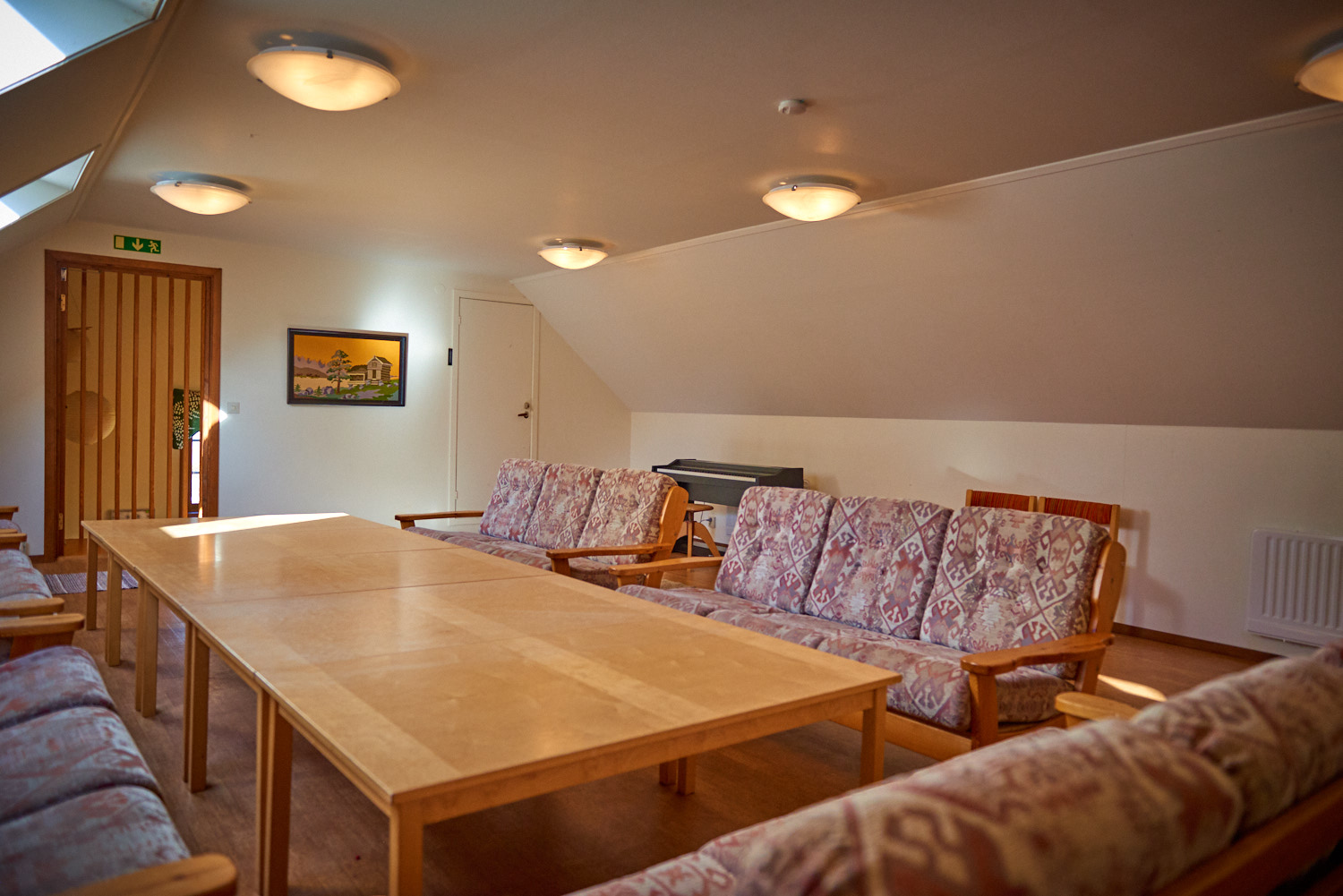 Bedroom
The bedrooms are on the 2nd floor. There are five bedrooms – three single rooms and two double rooms – suitable for "staff". These rooms are disposed of by guests.
Office
Adjacent to the Assembly Hall and with an entrance to the west there is an office room that is disposed of by guests on floor 1.
Leadership
The Master room on the 2nd floor is equipped with writing and copying equipment.
Conference Equipment
Sunnerbogården has the following equipment, including:
Copy Equipment
Flipboard
Projector (fixed mounted)
WIFI with Internet connection (new 2023)